On Wednesday, during Borussia Dortmund's clinic versus a bewildered Real Madrid side, news broke from Germany that Jose Mourinho has taken a step closer to the exit door, this time with a destination in mind: Chelsea.
German newspaper Bild, the same newspaper that broke the news of Mario Goetze's move to Bayern Munich on Monday, reported that the Special One would be taking the reins of Chelsea in London at season's end. This comes as little surprise as the interim manager in charge, Rafa Benitez, has been largely unpopular with the Blues faithful during his short rein over the London-based side.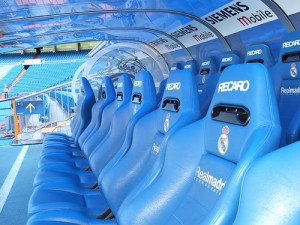 The Portuguese mastermind has been long linked to a move back to Chelsea. With several falling outs with players over the past season, namely the ongoing conflict with Spanish international goalkeeper, Iker Casillas, Mourinho's grasp over the Spanish capital giants has seemingly slipped.
According to a report from BBC Sport, former Chelsea forward and lynchpin to the team assembled by Mourinho's championship sides, Didier Drogba had this to say about his former boss:
"I don't think he's got over Chelsea. They haven't got over him.

We won league titles back-to-back with some great football and the only thing he didn't win was the Champions League. Maybe that is one of the reasons why he might want to come back. It is unfinished business."
So is the lure of completing a legacy what is tempting one of the most successful managers in the modern era of football back to England? It very well could be the case.
With a lot of the Mourinho-built squad there, but now as leaders of the squad, maybe the love affair between Mourinho and the players there isn't over just yet. Drogba pressed further in the same report from BBC, noting that, ""He is a winner and is close to the players. He went to Inter and is at Real Madrid, but is still talking about Chelsea, so he loves this club."
The Ivory Coast forward even noted that he could be tempted to return to London if Abramovich were to bring Mourinho back, after his current contract is up with Galatasaray is over, of course.
According to the same report from Bild, Roman Abramovich is set to welcome Mourinho back to London with a "gift." That gift in question is said to be Atletico Madrid forward and one-man Chelsea demolition team, Radamel Falcao.
Falcao single-handedly took down Chelsea in the UEFA Super Cup Final back at the end of August last year and Chelsea have been constantly linked with a move to bring the Columbian and his masterful goal-scoring abilities to London.
Falcao has not slacked one bit since he shocked the footballing world with his performance against Chelsea. With 25 goals and one assist in La Liga this season, the Columbian international has been ruthlessly efficient, roughly scoring a goal for every four shots he takes according to his stats on ESPNFC. Even former Atletico Madrid forward Fernando Torres is unfazed by the prospect of his old teammate coming to join him in London (via ESPNFC):
"Since I came we have only signed top players, so it would not be a surprise if we signed Falcao. When you play for Chelsea, you're always hoping big players come and the big names are always being linked with the club. You cannot stop that. Every player is welcome at Chelsea, every top player."
Do you see Jose Mourinho returning to his old stomping grounds at Stamford Bridge? Is he what Chelsea need to make a title push next season and possibly go on to success in the Champions League? Leave your thoughts in the comment section down below.