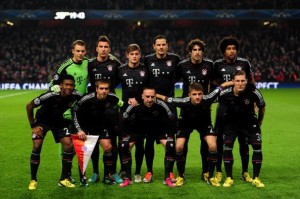 Both the Bundesliga and Champions League medals are in Bayern Munich's back pocket, with one more feat in mind — the German Cup.  More commonly known as DFB-Pokal, the Bavarians will certainly not rest on their laurels as they seek to end their 2012/13 campaign on an all-time high with the treble right in front of their noses.
In the past six matches, Bayern have controlled VfB Stuttgart,  winning all six matches by an aggregate score of 16 goals. As the Bavarians control their own destiny on Saturday evening at Berlin's Olympic Stadium, the German giants will compete for the title of being the only German club to achieve a historic treble of league and cup titles along with the European crown.
The clear advantage on Saturday goes to Bayern simply because of their squad depth and the drive to avenge last season's Champions League and Bundesliga runners-up finishes.  Thomas Mueller told Football UK that he and his side must finish off their campaign strong as, "No one's been there before.  We want to immortalize ourselves, now we can write history."  Teammate Franck Ribery built off the German's statement by indicating, "We have to win, but a final is always difficult.  We must motivate ourselves again.  If we lose, something will be missing."
Despite the monumental advantage on the team sheets, VfB Stuttgart realize the task at hand and are seemingly up to the challenge.  Manager Brun Labbadia told Football News:
"As things stand now, we have to reach our maximum and hope that Bayern don't play at their highest level that day.  That's not the situation that I prefer.  I would rather run ahead than try to keep up.  I'd prefer for us to be favorites, that would mean we wouldn't have any problems.  It would be solely up to us to win."
Labbadia clearly understands the tough task that he and his side are up against. But, David did beat Goliath and even Chelsea beat Bayern in last seasons Champions League final. More recently, relegated Wigan Athletic defeated Manchester City in the FA Cup final. So why not instill the belief within Stuttgart on Saturday that history can reign true to the underdogs?  That's the reason why the game is played, as anything is capable of happening.
Saturday's match contains another notable decision to be made regarding the current Bayern manager's future. Although Pep Guardiola will have plenty to live up to if Bayern are to secure the treble this season, Jupp Heynckes recently spoke that his future from a managerial standpoint will be announced shortly.
The 68-year-old told Goal.com
"The decision on what I will do after the cup match was already taken last June? Retire? No, you will learn that after the cup final (against Stuttgart next Saturday) [...] Last week in Gladbach was a unique situation, but today I'm over the moon for my players and the Lahm/Schweinsteiger generation."
On Saturday, expect Stuttgart to sit back and be quite happy to "park the bus" in front of their own goal, counting on Sven Ulreich to produce some magnificent saves.  In the attack, as Bayern press down their throats — likely to happen at the Olympic Stadium — Vedad Ibisevic, who scored 31 goals this season (in all competitions), will be called upon to gain an all important 32nd on the counterattack.
Will Bayern Munich retain Germany's first club to record the treble?  Can VfB Stuttgart spoil the going-away party for Jupp Heynckes?  Leave your comments in the box below.
Follow Robert on Twitter @Robert_Moore24