Author Archive: Robert Moore
Follow me on twitter at Robert_Moore24 for latest news, topicals, transfer rumors and more! You can also reach me at [email protected] with any other questions you may have! All opinions are my own, and I love to have a chat with soccer fans like myself.
I am a currently a Junior at the University of Connecticut. Growing up in Connecticut , soccer has never been at the fore-front of peoples minds, and I am looking to change that. I want to eventually pursue a career for writing for a professional soccer team, preferably Manchester United, however I am happy enough with just seeing where my talents can take me.
I follow many leagues worldwide from the up and coming MLS, the battle between Real Madrid and Barcelona in La Liga, to the Barclays Premier League. My passion besides playing soccer throughout my life, has been watching every game possible and wanting to know the latest news first.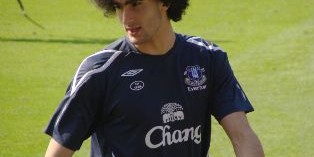 Ready yourselves Manchester United fans as newly appointed manager David Moyes may embark on a raid of former club, Everton.  As United currently have Michael Carrick, Tom Cleverley and Phil Jones all fighting for the central midfield role now that Paul Scholes has set off into retirement, another defensive minded midfielder may find his way [...]