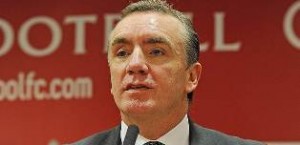 In a time of economical difficulties in Europe, most people feel one way or another the presence of a recession. And this is no different for some soccer clubs, particularly Liverpool.
According to BBC Business, the Reds overall debt has gone up by a third from £65.4 millions in July 2011 to £87.2 millions in May 2012. The club's managing director, Ian Ayre, said he is aware of the hit his club has suffered, "I take comfort in the fact that the work we have done, some of which costs us a lot of money in this period and beyond, looks pretty painful at the time."
Ayre also told BBC how Liverpool was hurt with recent sells.
 "We've made losses as a result of selling them but at the same time we've improved our longer-term position in terms of our wage bill by reducing the wages for those particular contracts," he said.
Yet the managing director said the injection of money is going toward making Liverpool more competitive, "We are trying to… invest in our team and improve our team. That has a cost, which creates debt."
And Liverpool's situation could have been worse if it was not for Royal Bank of Scotland (RBS). In a report from the Independent, the paper said RBS has received £45 billions of direct state aid in support during the financial crisis and some of this public money was passed to the Reds. Making their net debt decrease from £202 millions to £192 millions.
The 81 percent owned by taxpayers bank, along with many others, has gone under heavy criticism because of their passing state funds to help English Premier League teams and not loaning enough toward small businesses.
With more money leaving the team than coming in, Liverpool quick turn around has been to increase the season ticket prices. And this attitude was very much noticed, especially by Spirit of Shankly fan group.
"In the midst of austerity, with redundancies and cutbacks a daily reality for many supporters, these inflation-busting price rises are an insult to long-standing supporters who have already suffered a massive 716% price rise since 1989," said the group according to the BBC.

The members have also said, "While the announcement regarding Kop season tickets is a relief to many, it is our belief that ticket prices are already too high, pricing out many of those that kept the club on its feet during its darkest days."
In response, Ayre said that the club has hold season ticket prices for the past couple of years.
"Over the past two years the club has given careful consideration to ticket prices and pricing structures in consultation with the Supporters Committee. Following last year's price freeze, this year we have reviewed our overall stadium pricing structure and, similar to many other Premier League clubs, from next season we will also be introducing a multiple-tier pricing structure which will more accurately reflect seat location and view," the managing director said.
Another change that could upset the fans is the possible drought of transfer players in the summer due to this financial instability. Players like Thomas Ince from Blackpool, the Brazilian Dede from Vasco and Colombian international forward Jackson Martinez from Valencia, who have been evaluated by the management at Anfield, might be less probable during the summer. While current Liverpool defender, Martin Skrtel, could leave during the next transfer window.
However, not everything is in jeopardy at Anfield. But the team's mentality may need switch to more long-term goals. And this can begin with the current squad.
Liverpool have the youngest team in this season of the English Premier League with an average of 23.19 year old, which might give them the led down the road in a few years once under a well-balanced training sessions.
In addition, Liverpool has become the first of the top four clubs in England to provide a partnership with a business educational institution. Liverpool and the London School of Business & Finance (LSBF) will fuse regular business classes and soccer. This could bring the fresh young innovator brains of the college students to solve such extraordinary debt.
Though things could turn south if the Reds miss the opportunity of qualifying to next year's Uefa Champions League and capturing the millions of pounds giving for their participation as well as additional monetary bonuses for each stage that they advance to.
For that to happen, the currently seventh place will have to win most, if not all of their eight matches remaining in this season, four at home where the club has done 8-3-4, and four away matches where they have performed 4-6-5.
Do you think public money should be invested in to soccer clubs? And how likely do you think Liverpool will be to sign new players to their squad during this summer? Leave your thoughts in the area below.