The rumor mill certainly gets around in today's media driven society where footballers are constantly criticized for their lack of form, inability to produce the "desirable" numbers, and whether or not specific players will be moving on during the transfer window.  Manchester United's long-time star, Wayne Rooney has come up in many of these transfer talks as the summer nears; however, the rumors seem to be just that - rumors.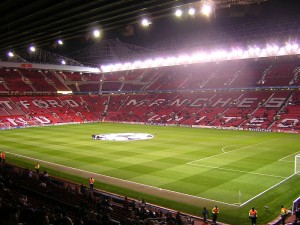 Often times, statistics are thrown out there to determine whether or not a player has undergone a successful season as a footballer - and in Rooney's case he has recorded 12 goals and 10 assists in the 25 Premier League matches he's featured in this season for the Red Devils.
However football is much more than numbers.  Since Robin van Persie's arrival to Old Trafford, the England international has developed into a more complete member of Sir Alex Ferguson's squad.  Against Aston Villa in which RVP tallied a hat-trick, it was the play from Rooney that really opened up the match.  As he develops into secondary striker and link between his forwards and established midfield, "Wazza" was successfully able to not only play the killer ball to the Dutchman, but was also able to bring his physicality aiding to the Red Devils 20th Premier League crown.
Even Bryan Robson believes that Sir Alex should hold onto the 27-year-old as he spoke to reporters (via Mail Online):
"He is absolutely a massive part of the club's success.  In certain games he is a top, top player.  He does things that other players can't do.  For me, in the first 20 minutes against Villa, he won United the game.  Everyone can go on about 'Van Persie, great goals', but Wayne's passing and intelligence were absolutely top class."
More often than not - onlookers gaze past the aforementioned play of Rooney and instead look at how he was not featured against Real Madrid in the Champions League, or how he was subbed off against Villa in that very match.  Despite Sir Alex's adamant talks of how the 27-year-old will remain at Old Trafford, links continue to taint such a world-class footballer.  As the world begins to adapt and understand Rooney's new role, more acceptance of the bullish midfield / forward will come to fruition.
Throughout the world it does not seem as if there has been a general acceptance or understanding just yet that Rooney is not a Lionel Messi or Cristiano Ronaldo - nor will he ever be.  His success and output to Manchester United spans far beyond the goals he tabulates for his club, but rather includes the numerous crunching tackles, his loyalty to the Red Devils and most importantly - his continued maturity.
The current United man does not lack in the passion department and although this same passion can either make or break the established Red Devil, he must continue to hone his work rate into positive energy on the pitch.
So the answer: Yes.  There is plenty of room for Wayne Rooney at Manchester United, and will be for quite some time.