Uruguay star Edinson Cavani is one of the much-celebrated footballers in the city of Napoli since the days of Diego Maradona. Cavani might be aware that he will have great opportunities to potentially win several trophies at a bigger club, but he has so far rejected the opportunity to move by professing his love for Napoli on several occasions. At 26 years of age, though, this could be his last chance to secure a move to a big club. If he decides to leave, then there will be no shortage of takers.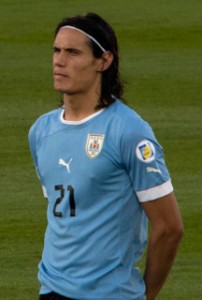 The likes of Chelsea, Manchester City, and Real Madrid have all expressed their interest in the striker, who would cost in the region of £50 million according to Napoli president Aurelio De Laurentiis. However, it is believed that Napoli will lower their demands for the player considering the service has given to them since making the move from Palermo in 2010.
According to Daily Mail, Cavani's mother, Berta Gomez, has given the biggest indication that the Napoli star may be ready to move in search of pastures new. Gomez has said that Cavani will find it difficult to leave the club, and that he himself does not know what will happen in the summer.
This admission has put several clubs – especially Manchester City and Chelsea – on red alert. Manchester City manager Roberto Mancini recently blamed the lack of signings as the reason for losing out on the Premier League title this season. City are expected to make Cavani as their primary transfer target in the summer, but they are unlikely to have it all their own way due to the presence of Chelsea.
Cavani has been a long-term transfer target for Chelsea, but a potential transfer to Stamford Bridge could depend on the West London outfit finishing in the top four.