With the Barclays Premier League crown already heading to Old Trafford for a record 20th time - Arsenal and Manchester United will clash at the Emirates this weekend in hopes of finishing the 2012/13 campaign strong.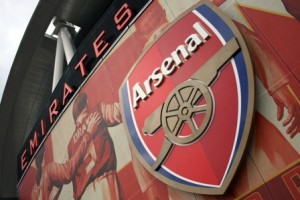 The Gunners are currently in a close battle with Chelsea and Tottenham as all the respective clubs are in search of securing a spot in the Champions League for next term.  Arsene Wenger's side at the moment sit in third-place (18-9-7, 63 points) one point above Chelsea, and two points above Tottenham - however, the Gunners have a game in hand.
Although the Red Devils have already secured the Premier League title, Sir Alex Ferguson's men will likely continue full steam ahead to finishing their title season on a high note.  As for Arsenal, Wenger recently stated that Robin van Persie will be greeted with nothing but respect from the fans at the Emirates Stadium on Sunday - as the hosts are expected to give a guard of honor to the league champions.
As RVP returns to his old stomping grounds, Wenger remains focused on the task at hand (via Mirror Online):
"What I want is for us to have a good game and to beat them, it doesn't matter what kind of status they come with [...] We will respect the players that have played for us a long time as we always have done and treat them well before and after the game."
If Arsenal are to distance themselves in the Champions League race, the Gunners must succeed in slowing down RVP, as well as the rest of the well-established United attack.  For the visitors, it is fair to expect a few possible changes to the lineup from that against Aston Villa to rest a few players at the end of a long, tiresome season.