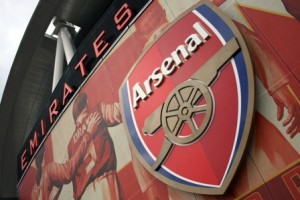 The north London club is thrilling the path to continue its winning strike—three so far—versus  Norwich City at Emirates Stadium on Saturday to reach one of the last two sits available through the English Premier League and to catapult itself in to next year's Champions League.
Yet in the next season Arsenal may face dealing with a blank spot in their roaster due to a possible pair of hanged boots.
Arsenal's Andrey Arshavin may be leaving Emirates and finishing his career at the end of this season, at 31 years old.
In a report this week from the London Evening Standard, the news outlet has said the Gunner midfielder "appears to have lost his appetite for football." Although the article mentions Arshavin wish to stay in London even after the possible retirement.
The Standard also said because of Arshavin's high salary, £95,000 a week ($145,483), led to unsuccessful re-locations to major clubs in Europe during the last transfer windows, such as to Reading F.C. as Royals manager Brian McDermott dismissed the links as "highly unlikely." This has added to the player's thoughts of stopping, according to the English source.
Though Arshavin did spend time elsewhere moving back to his hometown club, Zenit, the Russians only signed a six-month loan for £1 million ($1,531,400).
And ever since the return to London, Arshavin has primarily come out of the bench during some occasions.
The Russian international has helped the Gunners with 31 goals in 144 appearances thus far, and has been in the club since early 2009—a transfer from Zenit to Arsenal for £15 million ($22,971,000). Arshavin's most memorable moment as a Gunner came just weeks after his debut, when he scored all four goals in a 4-4 draw against Liverpool at Anfield.
His contract expires in the summer and according to the Telegraph, "Arshavin is highly unlikely to be offered a new contract at Arsenal."
Arsene Wenger said this week, according to ESPNFC, "He is a classy player and a top professional with a great attitude. The trouble for him is we have had plenty of options in the midfield and that has made it difficult for him. Despite this, he works hard in training every day."
To add more doubts in the Gunners' manager's head, 577 days have passed since Arshavin found the net. In addition, in 97 starts he ended being substituted in 55 times by Wenger. If the midfielder does not retire this summer, his chances of staying at Emirates seem minimal.
Do you think Arshavin should hang his boots at the end of this season? Leave your response in the comment section below.