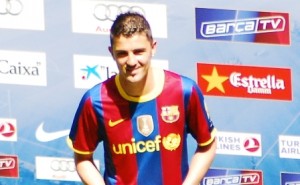 It was another brutal end of the season for Tottenham Hotspur and their fans as thee team again fell just short of Champions League play for next season. This year it was only one point that differentiated fourth-placed Arsenal from fifth-placed Tottenham. Inspired by Gareth Bale, who scored 21 goals and carried the side for much of campaign, Tottenham will once again play for the Europa League next season.
Last season, it was Chelsea who knocked Tottenham (who had qualified to the Champions League) out of the competition by winning it and therefore jumping ahead of Spurs for England's fourth team in the competition.  Spurs were able to tally up 69 points that season, which proved good for fourth then. This term the side earned 72 points for fifth place in a league that is becoming more and more competitive every year.
One of their main issues was that the side struggled to find their true #9. Emmanuel Adebayor was able to provide many goalscoring chances for the team, but the Togolese player was only able to put 5 goals in the back of the net in the Premier League. On the other hand, Jermaine Defoe was able to score 11 goals in league play. Nevertheless, Spurs manager Andre Villas-Boas (AVB) is looking for a striker who will lead the team in goals and become their attacking target alongside Bale.
During the summer, AVB is looking to make some noise in the transfer market and bring in some better strikers to the London-based team.
One of them is Barcelona's #7 and Spain's all-time leading scorer, David Villa. Ever since his horrific injury at the 2011 Club World Cup the former Valencia man has found himself near the bottom of the pecking order at Barcelona. AVB will try to rescue him this summer after many failed attempts the past transfer windows. Tottenham seem to be leading the race for Villa, although the club are currently unwilling to meet Barcelona's price of around £12 million.
Aside from Villa, Tottenham will also try to entertain conversations with Porto for their star striker, Jackson Martinez. The Colombia international finished a great season at Porto, helping them to win the league title while amassing an impressive 26 goals over the course of the campaign. According to the Independent, it is believed that Porto has valued the striker at £33.4 million.
This transfer season will be crucial to keep Bale happy at Tottenham and crucial to make a run at Champions League qualification in the future.