In my weekly column on SWOL, I take a look back at the weekend's English Premier League and domestic cup action and the talking points that it throws up, as well as any significant news related to English football at large. Follow me @theredarmchair for regular updates throughout the week.
EPL Round 34 Recap: United's 20th, City's Collapse, Sunderland's Rise, QPR's Disappearance
So the inevitable finally became reality, and Manchester United deserve all the credit that go their way. It's not been a picture-perfect season by all accounts – certainly the underwhelming exits in all their cup competitions, and their porous-looking defence make for worrying sights, but it's hard to say that it's not been a vintage season. After all, this is a supposedly weak United team that still has a chance of breaking Chelsea's total points record and are currently 16 points ahead of their nearest rivals. And Robin van Persie? Well, he's well and truly back on form, and his Golden Boot is merely an inevitable waiting to become reality.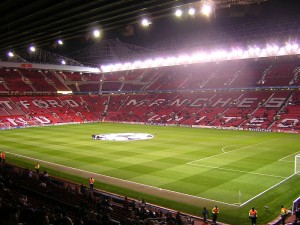 What goes on at Old Trafford certainly didn't for Manchester City at White Hart Lane on Sunday. We thought that a half-fit Gareth Bale and a clueless Emmanuel Adebayor would be enough for City to delay the inevitable, and Samir Nasri's early goal made it seem so. But what we didn't foresee was Andre Villas-Boas' game-changing substitutions, and Roberto Mancini's baffling response. In a game of titanic consequences, Scott Sinclair was summoned from the bench, and Joleon Lescott was sent up front. If Mancini was trying to get himself sacked, he sure made it much easier. Will even the FA Cup save his City career now?
We can be sure, though, that Paolo Di Canio will be safe in his job at Sunderland next season, for the resurrection he has presided over at the Stadium of Light has been nothing short of phenomenal. Another win over the weekend, this time against top four-chasing Everton, saw Stephane Sessegnon step up to marquee player status to score a goal that he, with all his talent, really should be scoring more often. As for David Moyes, an entire season of overachievement may finally end on a whimper. With four games to go, Everton are five points ahead of Liverpool, with a Merseyside derby to come. And his contract is up in the summer.
What about Harry Redknapp? After a winter spent chasing Peter Odemwingie and splashing out for Chris Samba, he and his QPR fans have looked to a blistering Loic Remy – seemingly the only decent player in the R's squad now – to fire them to safety, but in vain. Surely the ten-point gap from safety is too big to get over now. Redknapp knows this, of course – he spent the weekend moaning about attitudes and Mark Hughes' transfer record. While Remy will get a big-money move to a bigger club this summer, the same can't possibly be said for his current manager. For the time being, QPR's inevitable is only a few steps away from becoming reality.
How do you solve a problem like Luis Suarez?
But seriously, how? It's not his first controversy, it's not his first offence, and more shockingly, it's not even his first time biting someone. So what should football do with Liverpool's Luis Suarez? It's become clear that a player like Suarez can't be a talisman, purely because of the significant baggage that he brings with him. Sure, his work rate, dribbling and goal-scoring are nothing short of spectacular, but how much can a football club indulge a liability like him? And is it possible to "help" such volatile, unpredictable players? In the aftermath of the biting incident, these are the questions that football (and Liverpool) should be considering, not how many games he should be banned for.
A deserved tribute for Steven Gerrard
In another Liverpool news, it was announced on Tuesday that the Reds would organize a testimonial for Steven Gerrard at Anfield this summer, against none other than Olympiakos, who Gerrard famously scored in the 82nd minute in a Champions League group stage game some eight seasons ago to take Liverpool into the knockout rounds en route to their famous 2005 win. In the context of Gerrard's legendary career, this tribute is richly deserved, but in the context of Liverpool's recent past, it becomes even more significant: How many players would stay at their hometown club out of loyalty to carry them through such a troubled period and such a pronounced decline? There really is only one Captain Fantastic.
Dissecting the Player of the Year debate
No one can realistically dispute the inclusion of Robin van Persie, Gareth Bale, Juan Mata and Luis Suarez on the Player of the Year list. But Eden Hazard? Michael Carrick? Both have had fine seasons, but there are strong claims for players like Michu and Leighton Baines, who have enjoyed phenomenal seasons for Swansea City and Everton. But the real shock is in the Young awards, especially with Danny Welbeck and Jack Wilshere. On playing ability, they should both be considered, but they haven't even seen regular game time this season. Matija Nastasic and Luke Shaw have every right to be aggrieved. And that's without questioning again the point of nominating "young" players who have had season upon season of Premier League football. Plenty to consider for next year.