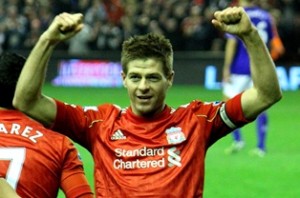 Steven Gerrard is unquestionably one of the greatest soccer players in Liverpool history.  The 32-year-old midfielder has been an undeniable force for both his club and his country. But, after amassing 15 years of soccer experience, Gerrard should naturally be on the decline.
However, according to Liverpool's medical experts, Gerrard has plenty of years ahead of him.  Glen Driscoll, Liverpool's head of performance, feels that the veteran midfielder can carry on at the top level of the club:
"Four or five years ago, people were saying it was very unlikely that Steven - with his injury history - would ever achieve this, let alone reach the milestones he has hit this year in terms of playing time at the age of 32."
This news is nothing short of amazing for the Reds.  Gerrard has played in every minute of every Premier League game they have played this season.  This is an unbelievable feat for any player, let alone a 32-year-old.
Not only does this show how incredibly fit Gerrard is, but his presence provides an incredible constant for the Liverpool midfield.  Chemistry is one of the most important things to deliver as a manager for a team.  This chemistry has become increasingly difficult as soccer contracts have changed; players are hardly tenured as of late.
Brendan Rodgers has lucked out with Gerrard.  Having an incredibly gifted player with over a decade of experience on the field is an important facet of Liverpool's roster.  He has seen everything that a player can see on the soccer field.  Where most players have lost some talent as they have aged, Gerrard has maintained his incredible play.
There are roster changes with every Premier League club during every transfer window, and this summer will be no different for Liverpool.  It is possible that the club loses an important player or two; but their most important piece will remain in a Liverpool jersey for the rest of his career.