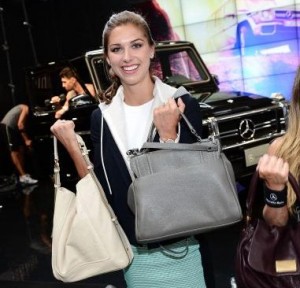 Olympic gold medalist, Alex Morgan, made her appearance in New York during Fashion Week. She attended the Mercedes-Benz Star Lounge. Mercedes-Benz has been a sponsor of Fashion Week for eight years. This year the company invited stars to the lounge for a new campaign: "Fit for Fashion." Those invited participated in a workout routine with celebrity trainer Joey Gonzalez and model Joan Smalls. Alex Morgan, despite being dressed to impress, also took part in the routine, which included some fashionable workout regimens. Who better to have at an event than a gold medalist, role model who the crowd doesn't mind looking at?

The famous WAG Victoria Beckham of course had a show in New York during Fashion Week. Her show was more than a success; it has been noted as her best yet. Victoria Beckham has taken her fashion line from the small dress collection to an internationally famous brand. She decided to expand her dress line into separate pieces. Many Hollywood stars have been dressed in her attire and Victoria looks to offer the stars more than just dresses next season. Another addition to the line was the inclusion of flats, not all the models donned the usual sky high heels. The new line seems to be more functional and comfortable for women who know what it feels like to prance around in heels all day.
Who else was seen at Victoria's show?  Why her husband of course. Famous LA Galaxy player, David Beckham was in the first row at the fashion show supporting his wife. David watched Harper as mom was busy backstage with the models. After the show, models all gawked at David Beckham. Nonetheless he was bombarded by models and fans for photos and the chance to bask in the glory of Becks.
[slideshow auto="undefined" thumbs="undefined"]