Robin Van Persie clinched his first Premier League title last night, but quickly declared that he won't settle for just one trophy. The Dutch international has enjoyed a fantastic debut season in Manchester after his highly talked about transfer from Premier League rivals Arsenal, and capped off a title winning performance with a 33 minute hat-trick last night. It only took United and Van Persie a minute and a half to get on the score-sheet and United never looked back.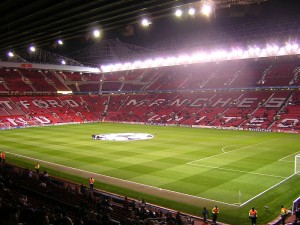 Having never won the Premier League during his time in London, the former Arsenal captain needed just one season to secure silverware at his new home. It appears the talisman has no intention of slowing down, however, and in an interview with Manchester United's official site, Van Persie stated his intentions.
"It's a great feeling," the striker told MUTV. "I had to wait a long time and I've been thinking and speaking about it with Rio, for example, in the car and he's been telling me: 'Listen, whatever happens, that's the standard.'
"He's right. From now on, our new standard is we want to be champions every year and we want to win more. So we are even more hungry than we were last season because you could just tell, from day one, everyone wanted this and we did well.
"I want to win it again. I want to win more stuff. I want to win the FA Cup, the Champions League, the Capital One Cup. I want to win it all.
"This is a trophy for all of us – the management, staff, all the players and the fans have been brilliant too. They've been absolutely amazing, cheering us on every single game, home and away, so credit to them as well."
"I'm very happy," he stated. "But it's weird. I had to wait so long for my first title and it's a great feeling. It's just fantastic.
"We have a fantastic team, fantastic players. If you look at every single one of them, it's a championship for every single one of them, and I mean everyone: the staff, the manager, trainers, players, medical staff… everyone has been great. This is our 20th title and, I think, deserved."